Leaguer Resort Sanya Bay: hotel in Sanya China






Sanya Bay Resort is located in the middle of the travel scenic Sanya Bay , its south is next to blue sea, its north is the green mountain and the homestead, facing the beautiful scenic West Island across the sea, 9 kms away from the Tian ya hai jiao scenic district, going to the airport is Just for 10 minutes by car, the traffic is very convenient.
Hotel Address:
Sanya Bay Resort District, Sanya, Hainan Province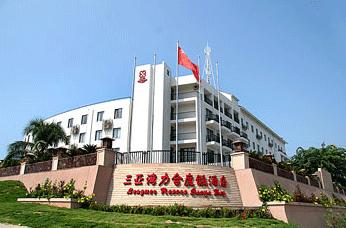 Hotel Room:
428
Season:
High Season , Low Season

Hotel Location:


Location in the city map
To Sanya Phoenix Airport: 5km and about 10mins by taxi and costs about RMB12; To City Center: 8km and about 10mins by taxi and costs about RMB18; To Bus Station: 5mins on foot;

See more pictures of Leaguer Resort Sanya Bay

Distance from landmarks:
To Tianyahaijiao about 4.65km,
To Sanya Phoenix International Airport about 6.76km,
To Sanya Jiefang Lu pedestrian street about 12.64km,
To Sanyabay about 13.39km,
To SanYa Beauty Crown Exhibition Center about 14.1km,
To Luhuitou Park about 14.3km,
To Sanya New Train Station about 14.71km,
To Hainan Sanya International Golf Club about 15.93km,
To Dadong Sea about 16.44km,
To Guanyin Statue of Hainan about 19.36km,
To Nanshan temple about 21.59km,
To Jingrun Pearl Cultural Museum about 22.12km,
To Daxiao Dongtian Scenic Spot about 24.88km,
To Yalongwan about 27.71km,
To Yalong Bay Golf Club about 27.71km,
To Yalong Bay National Resort Yalong Bay shellfish Museum about 28.11km,

*** Clicking on the underlined words you can find other hotels close to the same landmark
Nearby Hotels (less than 3 km):
♦
Palm Beach Resort & Spa

♦
Holiday Inn Sanya Bay Resort

♦
The International Asia Pacific Convention Center & HNA Resort Sanya

♦
Tianfuyuan Resort Sanya

♦
Yelan Bay Resort

♦
February Sea Seaview Hotel, Sanya

♦
Days Hotel &Suites Sanya Resort

♦
Phoenix Airport Express Hotel, Sanya

♦
Sea Area Central Resort Hotel, Sanya

♦
Grand Soluxe Hotel & Resort Sanya

♦
yuhai international hotel

♦
Sanya Huayuan Wenquan Dujia Hotel

♦
Leaguer Resort Sanya Bay

♦
Blue Ocean Silver Beach Hotel - Sanya

♦
Sanya Shamrock Inn

♦
Blue Harbor Seaview Apartments - Sanya

♦
Timton International Hotel - Sanya

Sanyawan Lihe Dujia Hotel locates on the center of Sanya Bay Resort. The hotel is adjacent blue sea on the south, green Mountain and Pastoral area on the north and facing beautiful Xidao Scenic Distric on the other shore of sea. It is 9km from hotel to The Remotest Corner of The Earth and 10mins by driving to airport. The hotel has 428 spacious and comfortable deluxe rooms with exquisite decoration and complete facilities and free internet access; from balconies, guests can enjoin panoramic view of boundless blue South China Sea and beautiful rural scenery. Chinese and Western restaurants, lakeside cafe and moonlight Bar-B-Q provide many kinds of food; Gym center, swimming pool, Therapy pool, Fish Therapy pool, Billiards, chess room, bicycle, and small Guoling practice court enable you to enjoy the holidays better. VIP Building of hotel, opened in 2009, is a casual and tropical-type high-end boutique residential building. It has 164 rooms and independent swimming pool and garden. Rooms are equipped with intelligent control system and most of rooms have balconies. 92% rooms in hotel are sea view rooms.
Room Description:
The hotel has 428 spacious deluxe rooms, these rooms were designed elegantly and beautifully , fully equipped, emboding the distinctive culture; viewing balcony can make the blue boundless South China Sea and the beautiful panoramic view of rural scenery seen totally, all the rooms have free high-speed broadband Internet .