The Chinese Export Commodity Fair, China trade, Canton Fair 2006
Fair Interval: two session a year, two fases a session
Date Phase 1: Oct. 15-20, 2006
Date Phase 2: Oct. 25-30, 2006
Venue: Chinese Export Commodities Fair (Pazhou) Complex,
Xingang Dong Road, Haizhu, Guangzhou, China
Chinese Export Commodities Fair (Liuhua) Complex,
117 Liu Hua Road, Guangzhou, China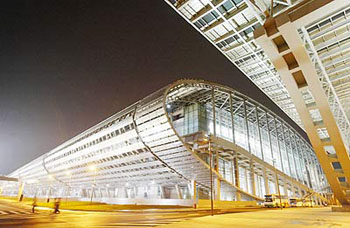 New Canton Fair: two phases every session
The Chinese Export Commodity Fair, also called Canton Fair, started in 1957, performs every year in spring and in autumn. Starting from 2006 will be held four times a year (everyone of six days) and new formulation: more space for exhibitors and more visitors. In april and in October there are two phases: manufactured goods, textiles and garments, foodstuffs and medicines in the first phase; souvenirs, gifts and household commodities in the second.
Chinese Export Commodity Fair 2006: China's largest trade fair
The Canton Fair is exhibition is trade of world significance, it is China's largest trade fair of the highest level, a comprehensive exhibition of international importance, with the most complete varieties of goods and the most elevated business turnover. In the Canton Fair, they take part forty-seven trading delegations, being composed of thousands of China's best foreign trade corporations (enterprises) including 4000 foreign trade companies, scientific research institutions, foreign invested enterprises.
Canton Fair visitors: 80000 business people from all the world
The last edition, with 30,058 booths, has attracted 13,686 exhibitors, an enlargement of 1,031 over last year. The first phase ran from April 15 to 20 and the second from April 25 to 30. Actually the exhibition space is about 160, 000 square metres. On display are more than 100, 000 kinds of Chinese products for export. The session of april 2006 hade over 190000 visitors, and over 80000 business people from over 170 countries and regions of the whole world, this session of the Canton Fair concludes so much export business as over 30000 millions USD.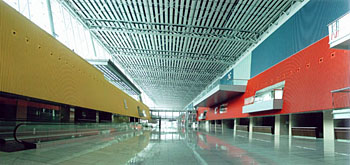 Hotels, visas and organization: useful information for Canton Fair Stay
For receive more information about Chinese Export Commodity Fair 2006, it can be useful this: Foreign Liaison Department, China Foreign Trade Centre - Add: No. 117 Liu Hua Road, Guangzhou, China, 510014 - Tel: 0086-20-26089999 - Fax: 0086-20-83335880 - E-mail: info@icecf.com. To organize efficiently your stay, you can choose hotel in this discounted directory: Guangzhou hotels. Important: all Canton hotels, during the Canton Fair, practice special high prices and often require anticipated payment. If you don't find available rooms in the Guangzhou Hotels, you can try in the Foshan hotels. Visas: to have the invite, indispensable to have visas, you must write email to this address: info@icecf.com.