Located in the commercial and recreation center of downtown Chengdu.
Hotel Address:
246, Shang Dong Avenue, Chengdu 610016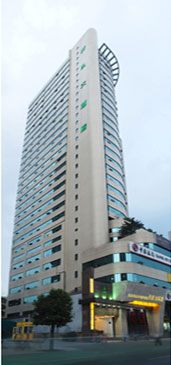 Hotel Room:
320 Rooms
Season:
High Season , Low Season

Hotel Location:


Location in the city map
It is only 15-minutes drive to Shuangliu International Airport, from airport 20km, from railway station 6kms, from city centre 1km

See more pictures of Xinliang Hotel, Chengdu
Hotel Video:

Lie in the flourishing area of Chengdu, hotels have all kinds of luxurious suite, standard room, single room to amount to 274. All rooms are furnished with the satellite TV, world, domestic direct dial, the mini-bar, automatic control central air conditioner, bathroom. Safe deposit box and electronic lock system, offer service of giving the meal in the guest room. Hotels have well equipped and complete meeting rooms and commercial center . New good hotel make the investment to build by new good mansion Co., Ltd. according to international accurate 4 star hotel standard, lie in the flourishing salt market mouth of Chengdu, commercial amusement centre district of bright way of spring, located in and gone the east street, is close to square and Government of self-sufficient and strategically located region. It is the drive of 20 minutes, 15 minutes respectively from double-current International airport, railway station, Convention and Exhibition Center. Let the guests engaged in various commercial affairs, public affair activities feel more convenient and more swift.
Hotel Facilities:
Air conditioning, Banquet facilities, Bar & lounge, Barber, Business centre, Coffee shop, Conference facilities, Disco / Nightclub, Fitness centre, Doctor on call, Internet Service, IDD, Foreign exchange, Laundry, TV, Parking, Restaurants, Room service, Sauna / Spa, Bar, In-house movies, Refrigerator, Multi-language staff, Airline Desk, Newspaper, Gymnasium, Shopping Arcade
Room Description:
Hotels were built up in September of 2000, the main building was 31 storeys high, it is 7 storeys high to enclose the building, have 320 various luxurious guest rooms, the ordinary single room is with an area of 19 square meters, the ordinary standard room is with an area of 32 square meters, 7 big, medium-sized and small meeting rooms, healthy and blissful facilities such as the sauna, teahouse, bowling, gymnasium, etc., let you can experience the cordial, high-efficient, sincere service even more while enjoying all modernized facilities.
Room Facilities:
Telephone, International Call, Air Conditioning, TV, Room Service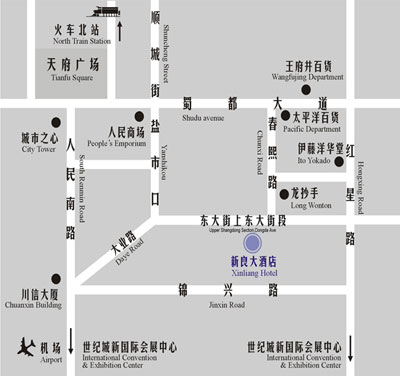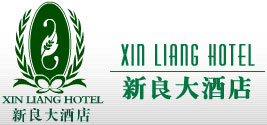 Mr. Guy Ri***
Date: 2009-02-24
Nation: Canada
Type of room: Superior single
Travel for: others
Travel: alone
Amusements: 10
Location: 10
Welcoming & Kindness: 10
Employees qualities: 10
Breakfast: 9
Quality/Price Ratio: 10
Bathroom Functioning: 10
Bathroom Courtesy items: 10
Rooms Cleanliness: 10
Quietness: 8.5 Comfort: 10
Rooms Spaciousness: 10
Rooms Furnishings: 10
It has been a great experience. I really enjoyed my stay. I would recommend this reservation services and this hotel. Thank you