Sapphire Hotel, Lanzhou: hotel in Lanzhou China






If you are looking for a exquisite hotel in a fabulous location and with concinnity environment.The sapphire hotel is the best place for your business, tour, amusement and shopping.
Hotel Address:
37 West Minzhu Road (Minzhu Xi Lu) Lanzhou China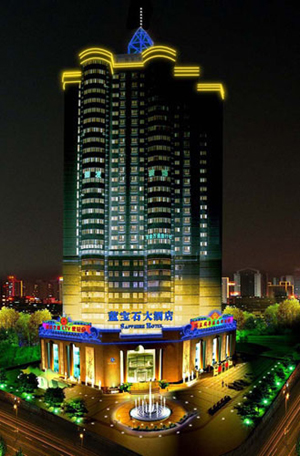 Hotel Room:
143 Rooms
Season:
High Season 6-10, Low Season 11-12; 1-5

Hotel Location:


Location in the city map
from the city center: 2 KM; from the railway station:3 KM; from the airport: 74 KM.

See more pictures of Sapphire Hotel, Lanzhou

Nearby Hotels (less than 3 km):
♦
Lanzhou Legend Hotel

♦
JJ Sun Hotel, Lanzhou

♦
Lanzhou Sunshine Plaza

♦
Gansu Wheel Hotel

♦
Jiarun hotel

♦
Home Inn (Lanzhou Tianshui Rd)

♦
Sapphire Hotel, Lanzhou

♦
Gansu International Hotel

♦
Super 8 Hotel Lanzhou Pedestrian street

♦
Lanzhou Yantan road Super 8 Hotel

♦
Nongken Farm Hotel - Lanzhou

Sapphire hotel is new business style hotel in LAN Zhou in Gansu province The hotel is located on Minzhu west road which is one of The city`s most prestigious streets.Only 70 Km from LAN Zhou zhongchuan airport and 1.5 Km from LAN Zhou railway station.
Room Description:
The hotel comprises atotal of 143 guestrooms, all tastefully decorated and with a relaxing atmosphere.You can enjoy mini-bar, IDD and DDD call, broad band internet access, comfortable bathroom and central air conditioning in the high standards of service and quality rooms.