Gansu International Hotel: hotel in Lanzhou China





Gansu International Hotel is located in downtown area (the middle of Qingyang Road), is an foreigner related integrated hotel for dining, entertainment and residence.It is your first choice for business, tourism, leisure, entertainment and shopping .
Hotel Address:
Nov.324 Qiangyang Road, Chengguan District, Lanzhou City,Gansu Province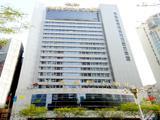 Hotel Room:
288
Season:
High Season , Low Season

Hotel Location:


Location in the city map
Distance from the airport:70km; Distance from the city center: 1km; Distance from Lanzhou railway station:4km

See more pictures of Gansu International Hotel

Nearby Hotels (less than 3 km):
♦
Lanzhou Legend Hotel

♦
JJ Sun Hotel, Lanzhou

♦
Lanzhou Sunshine Plaza

♦
Gansu Wheel Hotel

♦
Jiarun hotel

♦
Home Inn (Lanzhou Tianshui Rd)

♦
Sapphire Hotel, Lanzhou

♦
Gansu International Hotel

♦
Tianyuan Hot Spring Hotel,Gansu

♦
Super 8 Hotel Lanzhou Pedestrian street

♦
Lanzhou Yantan road Super 8 Hotel

♦
Nongken Farm Hotel - Lanzhou

Gansu International Hotel offers 24 hours service.There is reception , business center, ticket center, boutiques on the first floor to provide quality and convenient services .The music cafe in the lobby bar is comfortable and is the best place for leisure with its beautiful music and fragrance of tea. There is warm and elegant Chinese restaurant on the second floor which can accommodate 180 people dining, providing delicious Sichuan, Guangdong, and characteristic seasonable dishes from the northwest , suitable for personal dining, wedding banquets, conference banquets.Seven VIP boxes in different styles are ideal places for you to gather with your families and friends. European-style royal coffee shop offers authentic western foods. There are huge conference room which can accommodate 300 people with advanced equipments and bright and is suitable to hold press conferences, product promotion consumers council, association and other conferences. From fifth floor to ninth floor, there are different styles of conference rooms and VIP reception ,which can organize all kinds of medium and small meetings. There are also room service, laundry service, ticket booking, postal services and a special travel team with various sizes of vehicles, in-car air-conditioned facilities to offer shuttle service for guests. There are two car parks which could accommodate approximately more than 50 cars. The hotel also offers beauty salon, fitness and massage service.
Room Description:
Gansu International Hotel is equipped with modern facilities with elegant style and delicate decoration. There are luxury suites, standard suites, business rooms, standard rooms , a total of 288 rooms. All rooms are equipped with imported electronic anti-theft door locks, central air conditionings, direct dial telephones, refrigerators, safes, in-room mini-bars and other facilities, broadband connection to provide you high qualified and perfect integrated services.
Mr. BRUNO ***
Date: 2011-07-13
Nation: Switzerland
Type of room: Standard single
Travel for: others
Travel: alone
Amusements: 10
Location: 10
Welcoming & Kindness: 10
Employees qualities: 10
Breakfast: 10
Quality/Price Ratio: 10
Bathroom Functioning: 10
Bathroom Courtesy items: 10
Rooms Cleanliness: 10
Quietness: 10 Comfort: 10
Rooms Spaciousness: 10
Rooms Furnishings: 10
. Everything was ok, Hotel, room, staff friendly etc