Situated in Donggangxi Road, the commercial heard of Lanzhou, the JJ Sun Hotel (Jinjiang yangguang jiudian) overlooks the busiest street and "the Red East" Square. It is about 70km from the airport and only 2km from the railway station.
Hotel Address:
No. 589 Donggang Xi Road, Lanzhou, 730000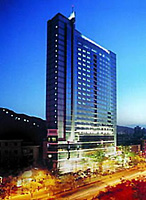 Hotel Room:

Season:
High Season , Low Season

Hotel Location:


Location in the city map
Situated on Donggangxi Road, the commercial center of Lanzhou, located 70kms to the airport. 2kms to the railway station

See more pictures of JJ Sun Hotel, Lanzhou
Situated on Donggangxi Road, the commercial center of Lanzhou, the JJ Sun Hotel overlooks the "the Red East" Square, Lanzhou University and its Science & Tech. City. The hotel is well placed for transportation links to the train station and airports. Additionally, its central location is perfect for the city's international exhibition center and Parson Shopping Center. For a more personal view on what's really worth seeing and doing in town, just ask The Porter located on-site. The JJ Garden, a magnificent restaurant located on-site, serves delicious Shanghai cuisine. There is also various sized meeting rooms and a business center for guest use. The Sunlight Hall on the 23rd floor can host up to 120 people.
Hotel Facilities:
Air Conditioning, Bar & Lounge, Beauty Salon, Baby Sitting Service, Conference Facilities, Card Room, English Speaking staff, Mini-bar and Refrigerator, Laundry, Money Exchange, Mini Theatre, Karaoke, TV, Shopping Arcade, Business Centre, Billiards, Car Parking, Hairdryer in bedroom, Grand Ballroom, Night Club, IDD/DDD, Restaurants, Refrigerator, Snooker Room, Sauna, Swimming Pool, Ticket Service, 110 Voltage Plug
Room Description:
To make your stay as comfortable as possible, the JJ Sun Hotel's accommodations offer the finest in luxury and state-of-the-art technology. Choose from 4 different types of rooms to suit your budget. All the hotel's rooms are beautifully appointed and include all the comforts of home.
Room Facilities:
Telephone, International Call, Air Conditioning, TV, Room Service
Mr. Brent ***
Date: 2008-10-20
Nation: Canada
Type of room: Standard single
Travel for: others
Travel: alone
Amusements: 5
Location: 9
Welcoming & Kindness: 9
Employees qualities: 9
Breakfast: 9
Quality/Price Ratio: 9
Bathroom Functioning: 9
Bathroom Courtesy items: 9
Rooms Cleanliness: 9
Quietness: 9 Comfort: 9
Rooms Spaciousness: 9
Rooms Furnishings: 9
Excellent hotel to stay in.
Mr. Brent ***
Date: 2007-10-17
Nation: Canada
Type of room: Standard single
Travel for: others
Travel: alone
Amusements: 5
Location: 10
Welcoming & Kindness: 9
Employees qualities: 9
Breakfast: 9
Quality/Price Ratio: 10
Bathroom Functioning: 9
Bathroom Courtesy items: 10
Rooms Cleanliness: 9
Quietness: 9 Comfort: 9
Rooms Spaciousness: 9
Rooms Furnishings: 9