Tianyuan Hot Spring Hotel,Gansu: hotel in Lanzhou China






Tianyuan Hot Spring Hotel make a feature of high quality mineral hot spring water which from under the ground at 2003 meters, hotel set accommodation, catering, bathing, business meetings, leisure and entertainment as one whole,create a quality of life area of business, leisure, food, healthy consumption for the urban elite and business hotel, build the first hotel spa features in northwest.
Hotel Address:
100 Anxi Road,Qilihe District,Lanzhou City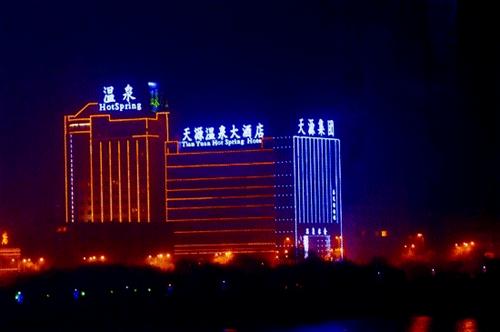 Hotel Room:
219
Season:
High Season 旺季: 5月1日-10月30日. , Low Season 淡季1月1日-4月30日, 11月1日-12月30日

Hotel Location:


Location in the city map
Adjacent to Baili Scenic Line of Yellow River;10km from Lanzhou Railway Station,60km from the airport

See more pictures of Tianyuan Hot Spring Hotel,Gansu

Nearby Hotels (less than 3 km):
♦
Lanzhou Legend Hotel

♦
JJ Sun Hotel, Lanzhou

♦
Lanzhou Sunshine Plaza

♦
Jiarun hotel

♦
Home Inn (Lanzhou Tianshui Rd)

♦
Gansu International Hotel

♦
Tianyuan Hot Spring Hotel,Gansu

♦
Changxin International Hotel - Lanzhou

♦
Super 8 Hotel Lanzhou Pedestrian street

♦
Lanzhou Yantan road Super 8 Hotel

Tianyuan Hot Spring Hotel possesses Xiangju Lanzhou as its restaurant alone the riverside, supplying pure Hunan local taste.There is also Chinese restaurant, Western restaurant, all kinds of boxes, and huge banquet hall which can accommodate thousands of people. The restaurant features its special dishes, pure raw materials and new dishes. It has won recognition and appreciation of local people and also attracts countless person from Hunan. Hot spring water Club is the leisure and entertainment center of the hotel, which is honoured as "No.1 hot spring in Lanzhou", with a total construction area of 15,000 square meters, boasting "taking a bath in healthy water, nurturing peaceful mind" leisure concept. Its layout is cassical and natural. With paintings it creates a distinguished, elegant atmosphere. There is auditorium, gym, yoga hall, reading room, lounge, table tennis room, billiards room, game room, massage room,supplying new and outstanding service. It is your first choice for casual gatherings, relaxing and entertaining .
Room Description:
The hotel has 219 various types of guest rooms (South: 118, North: 101). The panoramic rooms, large standard rooms are indeed rare in the Northwest. Geothermal hot spring water was introduced into each room. The standard room is comfortable and warm and the executive suite is characteristic.Moreover,there is business floors equipped with modern office systems to meet your various business needs. Luxurious presidential suite combines Chinese and Western style. All guests can get the view of Yellow River and enjoy the hot spring bath in guest rooms, to wash away the fatigue and make you comfortable and satisfied.