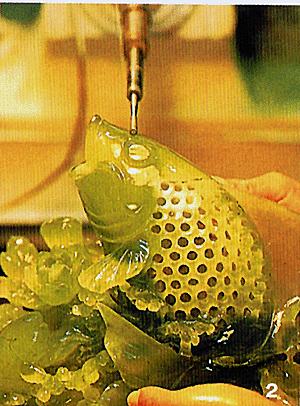 There are " shopper " for pedestrains only. Big shopping centers are scattered throughout the cities. Special shops for world-famous brands line the streets... In Guangdong, you can find everything you want handicrafts and a wide varity of local products, famous and quality commodites from all over the country, and the most freshly imported goods selling in China.
1 Teem Plaza, a huge, comprehensive shopping centre
2. Jade carvings, a speciality of Guangzhou
3. Artistic pottery works from Shiwan
4. Gorgeous porcelain with fine inlaid golden threads
5. Shangxiajiu (Upper-Lower-Nine), a commercial street in Guangzhou
6. Liwan Plaza, one of the big shopping centres on the Shangxiajiu Street
7. Shops of world-famous brands like this are everywhere in Guangzhou. (Garden Hotel shopping arcade)
8. Guangzhou is also famous for ivory and bone carvings.