Situated in Chengdu, with its beautiful scenery, mild climate, and history going back 2, 300 years, is the Sofitel Wanda Chengdu (Chengdu Suofeite Wanda Dafandian). Located along the scenic Jinjiang River, the hotel within walking distance of Chunxi Road, one of the city's most vibrant commercial concourses. Also nearby are Wuhou Temple and many commercial centers in the heart of the city.
Hotel Address:
No. 15 Binjiang Zhong Road, Chengdu, 610016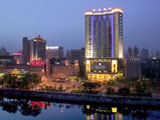 Hotel Room:
262
Season:
High Season , Low Season

Hotel Location:


Location in the city map
The Hotel is situated along Funan River, which flows though the city. It is only a 15-minute walk to Central Square and the commercial hub and a 20-minute drive from Chegdu International Airport.

See more pictures of Chengdu Suofeite Wanda Hotel
Sofitel Wanda Chengdu, a luxury 5-star international standard hotel, is managed by Acoor Group. Having to travel away from the office on business should not limit your productivity. We can provide the business traveler with a complete "mobile office" and assistance from our dedicated hotel staff. The hotel has 262 elegant rooms with extra-large executive rooms and deluxe suites, 3 restaurants, a grandballroom, an auditorium with simultaneous multi-language translation system, 5 meeting rooms, an indoor swimming pool, spa and gym. Cigar Bar: Relax after a busy day and enjoy the aroma of tobacco and cognac in our cigar bar located in the lobby lounge. Opening hours : 11:00 - 02:00. Executive Lounge: perfectly located on the 23rd floor. Continental Breakfast is served from 06:30 AM to 10:30 AM. Complimentary tea and coffee during the day, complimentary cocktails from 6:00 PM to 7:30 PM. Opening hours are: 06:30 - 23:00. Poolside Bar: Located on the 5th floor by the indoor swimming pool. Enjoy soft drinks, tea, coffee, healthy juices and beer. Opening hours : 10:00 - 04:00. Rendezvous Lounge: located in the lobby. It is an ideal venue to meet friends for afternoon tea or cocktails in the evening. Opening hours : 11:00 - 02:00. The hotel's three restaurants: La Brasserie Restaurant, a western Restaurant, is located on the 2nd floor. It offers extensive buffets, delicious a la carte specialities and all day dining. The Palace, a chinese Restaurant, is located on the 3rd floor. It serves authentic Cantonese and Sichuan cuisine. Fuji Restaurant, a Japanese Restaurant, it is located on the 2nd floor. It serves delicious sashimi and other exclusive specialties.
Hotel Facilities:
, Bar/Lounge, Business Center, Porter/bellhop, Laundry, Sauna, Swimming Pool, Room service, Car Rental, Parking, Meeting Rooms, Shopping Center, Babysitting, Health Club, Ticket Service, Express Check In, Coach Drop Off
Room Description:
The hotel boasts 262 guest rooms, including 64 non-smoking, 2 disabled, and 16 suite. All rooms are equipped with dead bolt in rooms, air conditioning, safe-deposit box in room, mini bar, satellite / cable colour TV, voice mail, hair dryer in bathroom, phone in bathroom, shower tub (separate).
Room Facilities:
, Cable/satellite TV, Air conditioning, Domestic Direct-dial phone, International Direct-dial phone, Internet access