Astor House Hotel(Pujiang Hotel, Shanghai): hotel in Shanghai China





Astor House Hotel Shanghai is one of the historic hotels of the city. Established in 1846, this baroque-style building is still one of the typical views of Shanghai. Excellent restaurant with local and Western dishes. The 134 rooms are spacious, perfectly maintained, with all the comforts (also safety boxes, large-screen TV, Internet, mini-bar).
Hotel Address:
No. 15 Huang Pu Road, ShangHai 200080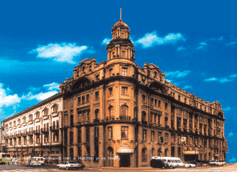 Hotel Room:
116 Rooms
Season:
High Season , Low Season

Hotel Location:


Location in the city map
Located near the famous Bund, 2 minutes from Waibaidu Bridge, 5 minutes walk from the Huangpu Park Historical Museum, 15 minutes walk from Nanjing Road, 10 minutes drive from Railway Station. 1Kms to the Wai Hong Qiao Harbour. 45from the Pudong International Airport; 15.5Kms from the Hongqiao Airport.

See more pictures of Astor House Hotel(Pujiang Hotel, Shanghai)

Distance from landmarks:
To Russian Consulate General in Shanghai about 0.09km,
To Bund Sightseeing Tunnel about 0.74km,
To Xing Wang Market about 0.82km,
To Xin Qipu Market about 0.89km,
To Oriental Pearl TV Tower about 0.97km,
To The Bund about 1.12km,
To Super Brand Mall about 1.13km,
To Lujiazui Finance & Trade Zone about 1.17km,
To The Norwegian Consulate General in Shanghai about 1.25km,
To Huangpu by night about 1.31km,
To Yuyuan Garden about 1.78km,
To Raffles Square about 1.95km,
To Town god's temple about 2.1km,
To Shanghai People's Square about 2.12km,
To Shanghai Museum about 2.34km,
To Shiliupu Wharf about 2.61km,
To Xintiandi Nightlife about 2.67km,
To Taikang Terrace about 2.87km,
To Banyan Tree Spa about 2.87km,
To Stadium Concerts about 3.03km,
To Shanghai Railway Station about 3.58km,
To Huaihai Zhong Lu about 3.7km,
To Jingan Temple about 3.76km,
To Nanjing Road about 3.77km,
To Consulate General of Finland, Shanghai about 3.79km,
To Canadian Consulate General Shanghai about 4.21km,
To Jade Buddha Temple about 4.38km,
To French Concession about 4.41km,
To Paramount Party about 4.44km,
To Sogo Dep. Store about 4.79km,
To Zhongshan Road about 5.09km,
To Science Tech. Museum about 5.6km,
To Asia Pacific Plaza about 5.8km,
To Lupu Bridge Platform about 6.2km,
To Ferguson Lane about 6.5km,
To Xujiahui about 7.56km,
To Gateway Plaza about 7.59km,
To Shanghai New International Expo Centre (SNIEC) about 7.96km,
To Yuyintang Live Music about 8.1km,
To Old Shanghai Red Town about 8.2km,
To Longhua Temple and Pagoda about 8.72km,
To Argentina Shanghai Consulate about 9.37km,
To Shanghai International Exhibition Center about 9.47km,
To Consulate-General of Japan in Shanghai about 9.69km,
To Shanghaimart about 9.8km,
To Shanghai Everbright Convention & Exhibition Center about 10.44km,
To Consulate General of Switzerland about 10.46km,
To Hongmei Street about 11.44km,
To Shanghai South railway station about 11.72km,
To Pearl City Market about 11.78km,
To Waigaoqiao Free trade zone about 13.85km,
To Shanghai Hongqiao International Airport about 14.71km,
To Shanghai Hongqiao Railway Station about 17.13km,
To National (Shanghai) Center for Exhibition and Convention NCEC about 25.25km,
To Formula 1 Race track Circuit about 27.83km,
To Shanghai Automobile Exhibition Center(SAEC) about 30.7km,
To Shanghai Pudong International Airport about 30.99km,
To Songjiang Mosque about 36.69km,

*** Clicking on the underlined words you can find other hotels close to the same landmark
Nearby Hotels (less than 3 km):
♦
Jinjiang Hotel shanghai

♦
Hotel Shanghai International Equatorial

♦
Shanghai Hotel

♦
Pudong Shangri-La Hotel, Shanghai

♦
Golden Jade Sunshine Hotel, Shanghai

♦
Broadway Mansions Hotel, Shanghai

♦
Courtyard Shanghai Pudong

♦
Fanyang Hotel, Shanghai

♦
Grand Hyatt, Shanghai

♦
Villas 1931 Hotel Shanghai

♦
Heng Sheng Peninsula International Hotel Shanghai

♦
Hilton Hotel, Shanghai

♦
Holiday Inn Downtown, Shanghai

♦
Howard Johnson Plaza Hotel, Shanghai

♦
Magnificent International Plaza & Hotel

♦
New Harbour Service Apartment, Shanghai

♦
Novotel Atlantis, Shanghai

♦
Astor House Hotel(Pujiang Hotel, Shanghai)

♦
Purple Mountain Hotel, Shanghai

♦
Ramada Plaza Hotel, Shanghai

Renovated recently but the building's character remains unchanged. It is within walking distance to the Bund (the heart of the old Shanghai). The hostel is just opposite the bus stop. From Hongqiao Airport.
Hotel Facilities:
Coffee Bar, Groggery, TV Room, internet service, Restaurant, Laundry, Bike service, Parking, Business center, Shopping, Exchange, Ticket service, Travel service, Post service, Meeting room, Bar, Beauty Salon,
Room Description:
The hotel offers all kinds of room types, with a total of 134 guestrooms, including standard twin rooms, four-bed rooms, deluxe rooms, and so on. Among them, there are four special rooms in the room zone of famous person. Albert Einstein lived in Room 304 before, Russell, Bertrand Arthur William lived in Room 310 before, Charlie Chaplin lived in Room 404 before, and the former president of America----Grant lived in Room 410 before.
Room Facilities:
Telephone, International Call, Air Conditioning, TV, Room Service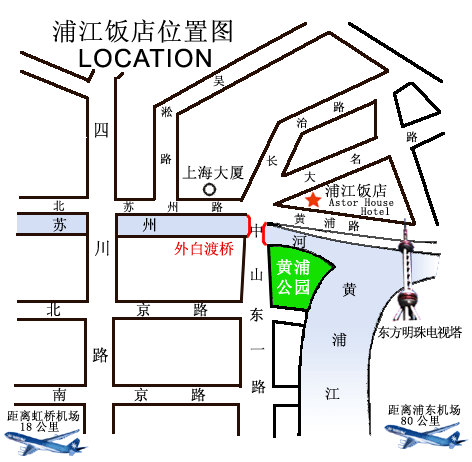 Mr. CHEN H***
Date: 2009-07-24
Nation: Taiwan
Type of room: Standard double
Travel for: tourism
Travel: with partner
Amusements: 9.5
Location: 10
Welcoming & Kindness: 9.9
Employees qualities: 9.9
Breakfast: 9
Quality/Price Ratio: 9.5
Bathroom Functioning: 9.5
Bathroom Courtesy items: 9.5
Rooms Cleanliness: 9.5
Quietness: 9.5 Comfort: 9
Rooms Spaciousness: 9.8
Rooms Furnishings: 9
Mr. Nicole***
Date: 2007-09-17
Nation: Switzerland
Type of room: Standard double
Travel for: tourism
Travel: with family
Amusements: 5
Location: 10
Welcoming & Kindness: 8
Employees qualities: 7.5
Breakfast: 8
Quality/Price Ratio: 8
Bathroom Functioning: 9
Bathroom Courtesy items: 10
Rooms Cleanliness: 9
Quietness: 9.5 Comfort: 9
Rooms Spaciousness: 10
Rooms Furnishings: 8