Glorious cuisine in Hong Kong: traditional food and Cantonese 'dim sum' delicacies

Hongkong Hotels

For food lovers, Hong Kong has variety and quality that is unsurpassed. Once you have come to grips with chopsticks for course. Knives and forks are deadly available it you need them), there'll be no stopping you from sampling all the regional specialties of China. All prepared according to traditional methods and beautifully presented.
Don't miss the lunchtime Cantonese 'dim sum' delicacies, ordered from trolleys roving through the restaurant, and served in steaming baskets. And throughout your meal, enjoy a variety of soothing teas.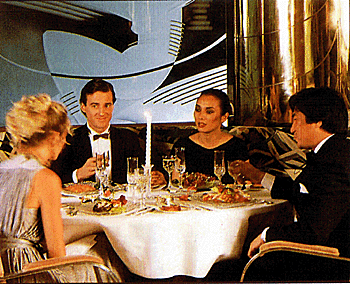 You'll also want to visit a floating restaurant or you can even eat on your own sampan in a typhoon shelter, during the summer months. 'Dai pal dong' - the open air street stalls selling tasty snacks and noodles late into the night make a delicious and fascinating summertime eating out experience in Hong Kong. Consult the Official Hong Kong Guide, the Hong Kong Food Guide, or visitors newspapers available at your hotel and HKTA information Centers, for dining tips.
In Hong Kong you'll also discover an incredible variety of restaurants specializing in the wonderful dishes of all the neighbouring countries of Asia.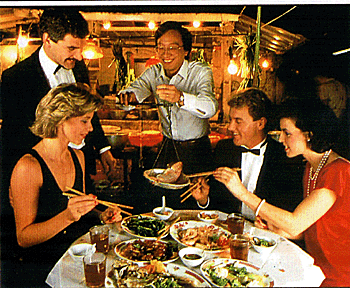 At the same time, Hong Kong's hotels and restaurants offer an impressive array of superb Western food and wines. You may be in Hong Kong but you could easily enjoy eating your way around the world while you are here!

HongKong guide travel:
Hong Kong Hotel Guide
,
Entertainement ideas
,
Ancient Chinese customs in Hong Kong
,
Birds And Teahouses
,
Day trip to China and Macau
,
Day trip on Chinese border
,
Traditional shows
,
Events and festivals in Hong Kong
,
Conference and Meeting in Hong Kong
,
Transportation in Hong Kong
,
Glorious Cuisine and Dim Sun delicacies
,
Hong Kong by night
,
Great Eating in Hong Kong
,
Hotels: high level uf Luxury
,
Day trip to Macau
,
Charming of Hong Kong
,
Shopper's Paradise of Asia
,
Personalized itineraries
,
Some Hong Kong Highlights
,
Visit Hong Kong by Ferry or Junk Motor Boat
,
Highlights in Hong Kong
,
Tourist ways
,
Discover life of Hong Kong
,
Exotic world of Hong Kong
,
Sport activities in Hong Kong
,
Ingredients of Hong Kong fascination
Hong Kong: tours by pictures:
Concert Of Chinese Music
,
Dai Pai Dong
,
Dinner At Sea
,
Dinner At The Peak
,
Dragon Dance
,
Fortune Telling Bazaar
,
Lion Dance
,
Pirate Attack
,
Shopping
,
Transportation
,
Attractions in Hong Kong
,
Traditional arts
,
Sunset Cruise
,
Taipan Dance
,
Tram Tour At Twilight
,
Welcome Music
Main Cities in China Travel and China Hotels








Beijing

Canton

Shanghai

Hong Kong

Qingdao

Hangzhou
Major China Hotels:
Beijing Hotels
,
Chengdu Hotels
,
Chongqing Hotels
,
Dalian Hotels
,
Foshan Hotels
,
GuangZhou Hotels
,
Guilin Hotels
,
Hangzhou Hotels
,
Harbin Hotels
,
HongKong Hotels
,
Kunming Hotels
,
Macau Hotels
,
Nanjing Hotels
,
Qingdao Hotels
,
Sanya Hotels
,
Shanghai Hotels
,
Shenyang Hotels
,
Suzhou Hotels
,
Tianjin Hotels
,
Urumqi Hotels
,
Wenzhou Hotels
,
Xiamen Hotels
,
Xian Hotels