Located in the city of Haikou, the Hotel is only 10 a minutes drive from the Haikou Airport. The first international 5-star hotel in Hainan Province.The service of the hotel is super
Hotel Address:
No.18, Peace Ave, Haidian Island Haikou, Hainan Province, China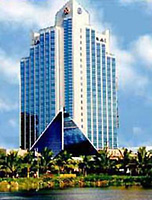 Hotel Room:
408 Rooms
Season:
High Season , Low Season

Hotel Location:


Location in the city map
6kms to the city center; 25kms to the airport; 30kms to the railway station;

See more pictures of Huandao Tide Hotel, Haikou
Located in the city of Haikou neighbouring the beautiful seaside resort, the Huandao Tide Hotel, Which is only 40 Minutes drive from the Haikou Airport, is the first international 5 star hotel in Hainan Province. The 23-storey hotel covers 40-mu of land, 30 percent of which is covered by trees and flowers, and the total building area adds up to 46, 000 square meter; The hotel architecture combines beautiful scenery of nature of the coastal and garden surroundings with modern European building design to form a resort environment of leisure and comfort. Rising 27 storeys above the Haidian waterfront, the Huandao Tide Hotel marks the begining of an exciting new era of hospitality and convenience. The hotel owns 408 rooms and suites including presidential Suites, Garden Suites, Deluxe Suites, Connecting Suites and Standard Rooms. It also possesses 6 restaurant of different styles. They are the Chiutai City, specialized for the famours Chaozhou dishes, which are cooked by famous Hongkong looks here; the restaurant offering local flavours from Huaiyang and Grangdong Provincs; the Italian style Rose Garden Providing Western food; the Xihu Restaurant with their special dishes the food Garden connecting snacks from different parts of China; and the Romantic Beer Garden accommodating 300 people together. For meetings of various scales, the hotel provides a Function Hall. All of the meeting rooms possess advanced equipments such as the infrared ray simultaneous interpretation facilities of 6 languages, liquid crystal projection apparatus connected with computers etc. Other services such as fax, typing and copying, Internet and E-mail, etc. are also available under the meeting's demand. The hotel possesses 16 Bowling Center arena and International Standard sauna 8 Massage Rooms. Barber 8 Beauty Salon. Night Club. Tennis Court. Health-keeping Room and outdoor Pool. Huandao Tide Hotel was granted "National Top Star-rated Hotels. in China" in 95 and 96 for good quality and high efficiency Service.
Hotel Facilities:
Air Conditioning, Baby-sitting, Beauty Salon, Health Club, Night Club, Money Exchange, Outdoor Swimming Pool, Interpreter, Shopping Arcade, Sauna, Sightseeing Bus, Tea/Coffee Boiling Pot, Airline Desk, Business Center, Conference Facilities, Clinic, Hair-dryer in the Bedroom, Fitness Room, Room Service, IDD, Sauna, TV, Laundry Service, Lounge
Room Description:
The exquisitely decorated and uniquely styled hotel guestroom has been awarded GUESTROOM DESIGN GOLD AWARD OF CHINA LANDMARK HOTEL by National Tourism Administration. Each of the hotel's 408 rooms offers a breathtaking view of the ocean. Huandao Tide Hotel provides a complete range of accommodation. Suites, non-smoking floor, executive floor will meets guest's needs for business travel or personal holiday. Your stay at Huandao Tide Hotel will be a unique and most pleasurable one. The Huandao Tide Hotel's guestrooms have been designed in delightful color schemes. All rooms feature Canadian bircher furnishings that give the rooms an elegant feel. Thoughtful appointments include makeup mirrors with light in the bathroom and electronic bedside control panel for television, radio, lights. Each room offers either one king bed or two single beds.
Room Facilities:
Telephone, International Call, Air Conditioning, TV, Room Service and so on. In the all, The installation of the hotel is complete!
Mr. UDAY K***
Date: 2008-01-02
Nation: CANADIAN
Type of room: Standard single
Travel for: others
Travel: alone
Amusements: 7.5
Location: 8
Welcoming & Kindness: 9
Employees qualities: 8
Breakfast: 9
Quality/Price Ratio: 9
Bathroom Functioning: 10
Bathroom Courtesy items: 10
Rooms Cleanliness: 8
Quietness: 8 Comfort: 8
Rooms Spaciousness: 8
Rooms Furnishings: 8