Situated in the eastern part of Inner Mongolia, the scenic resot is adjacent to Beijing And border on Hebei Province, It is an important birthplace of the minority groups in northern China.Both the well-known Hongshan Culture and Liao Culture have their origin there It has a unique history, culture, things about the minority groups, and other man-made tourism resources as well as the grassland, lakes, forests, mountains, a desert, traces of glaciers, not springs, and other natural tourism resources. Scenic attractions include the Daming Pagoda of the Liao Dynasty, Shangjing and Zhongjing of the Liao Dynasty, the ShenshuiTanq Hot Spring and other scenic spots.
Reshuitang and Huanggangliang Scenic Resort:
Lying in the northesatern Hexigten Banner of Chifeng City.the scenic resort features perfect functions. ideal for recuperation, holiday making and sightseeing. It is mainly composed of the Reshuitang Hot Spring and the Huanggangliang Forest Park. The hot spring was developed 1.000 years ago.In the Liao Dynasty Emperor Taizong and his successors had baths in the spring water In 1686, Emperor Kangxi of the Qing Dynasty visited the hot spring and took a bath. The site where the Qing emperor bathed remains today The Huanggangliang Forest Park is composed of forests, grasslands meadows, sandy land, and hills.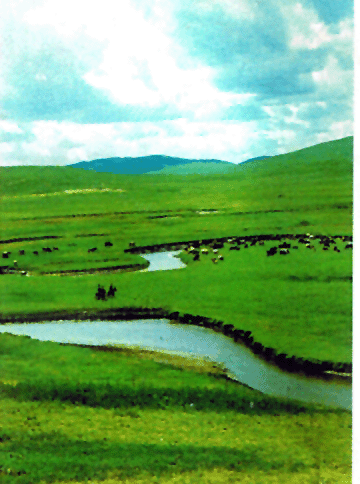 Daming Pagoda:
Built in 1035. the Daming Pagoda is located outside the ruins of Zhongjing of the Liao Dynasty This octagonal pagoda is a solid-brick structure on a 6-meter-high in rammed earthen platform. It has 13 stories with close-packed eaves and stands 74 meters high The base is 34, meters in diameter.
Dal Nur Nature Reserve:
The nature reserve's 50 kilometers west of Jingpeng Town in the Hexiste, Banner, Chifeng City. It consists of lake, wetlands, grasslands, Sandy land remains of hills, and other eco- systems. There are 134 species birds, including the red-crowned crane, swan, bustard, and other 20 species under key state protection. There are 22 lakes, with Dal Lake being the largest.