The Hainai Huangma Holiday Hotel (Hainan Huangma Jiari Dajiudian) is located at Haifu Road of Meilan District in Haikou. It is 25 kilometers from Meilan Airport. Opened in 2011, the hotel features 207 guest rooms and suites.
Hotel Address:
22 Haifu Road, Meilan District, Haikou.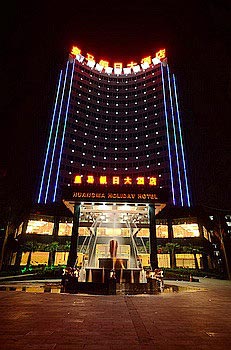 Hotel Room:
207
Season:
High Season , Low Season

Hotel Location:


Location in the city map
Haikou Railway Station 26.08 km East Haikou Raiway Station 5 km Haikou Meilan International Airport 19.07 km Pearl Square 1.5 km

See more pictures of Hainai Huangma Holiday Hotel - Haikou
Nestled in the heart of Haikou, Hainan Huangma Holiday Hotel is an ideal spot from which to discover Haikou. Situated only 1.5 Km from the city center, guests are well located to enjoy the town's attractions and activities. For those of you who want to venture out, Hǎikǒu Park, Guang'antang Drugs Wholesale Supermarket are just some of the attractions available to visitors. Hotel accommodations have been carefully appointed to the highest degree of comfort and convenience, with ironing facilities, internet access – wireless (complimentary), bathtub, coffee/tea maker, desk in each room. The hotel offers many unique recreational opportunities such as massage, sauna, spa, outdoor pool. Whatever your purpose of visit, Hainan Huangma Holiday Hotel is an excellent choice for your stay in Haikou.
Hotel Facilities:
Meeting facilities, Business center, Ticket office, Front desk valuables safe, Bellman, Baggage deposit service, Morning call service, ATM, Free parking, Wifi internet in public areas, Complimentary tourism traffic map, Laundry service, Escalator/elevator
Room Description:
Room Facilities:
Slipper, Writing desk, Bathroom magnifying make-up mirrior, 24 hours hot water, Electric kettle, Complimentary bathroom amenities, Complimentary bottled water, Mini bar, Multi-type electrical outlet, Separate shower room, Hair dryer, Individually controlled air conditioning, domestic direct-dial, International direct-dial