The Hangzhou E.M Grand Hotel (Yimei Dajiudian) is an international hotel situated in the bustling commercial center of Wulin, just north of the famous West Lake.
Hotel Address:
No.8 Wensan Road,Hangzhou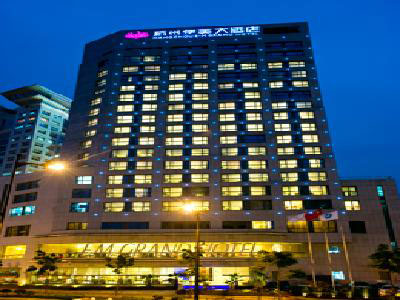 Hotel Room:
176
Season:
High Season , Low Season

Hotel Location:


Location in the city map
- 25km to Xiaoshan International Airport; - 6km to Chengzhan Railway Station; - 8km to East Coach Station; - 1.5km to Wulinmen center; - 1km to West Lake.

See more pictures of Hangzhou Yimei Hotel
Distance from landmarks:
To Hangzhou Huanglong Sports Center about 1.84km,
To Zhejiang World Trade Center about 2.39km,
To Hangzhou Botanical Garden about 2.68km,
To Western Bus Station about 3.09km,
To Zhejiang Provincial Museum about 3.72km,
To Su Di Chun Xiao about 4.08km,
To Feilaifeng of Lingyin Temple in Hangzhou about 4.13km,
To The Imperial Grand Canal about 4.3km,
To Yan'an Road Wulin Square about 4.33km,
To North Bus Station about 4.53km,
To Lei Feng Xi Zhao about 5.65km,
To Hangzhou Peace International Conference & Exhibition Center about 5.74km,
To Hangzhou Xixi national wetland park about 6.06km,
To He Fangjie Wushan Square about 6.82km,
To Chengzhan Train Station about 7.05km,
To Hu Pao Meng Quan about 7.6km,
To Si Ji Qing Clothing Market about 7.87km,
To Southern Bus Station about 8.05km,
To Eastern Bus Station about 8.3km,
To Hangzhou Liu He Pagoda about 9.04km,
To East Railway Station about 9.16km,
To Hangzhou World Leisure Expo Park about 17.94km,
To Zhejiang Sci Tech University about 23.32km,
To Hangzhou Xiaoshan International Airport about 30.99km,

*** Clicking on the underlined words you can find other hotels close to the same landmark
Nearby Hotels (less than 3 km):
♦
Lily Hotel Hangzhou

♦
Hangzhou Zhijiang Hotel

♦
Xinqiao Hotel

♦
Culture Plaza Hotel, Hangzhou

♦
Dragon Hotel, Hangzhou

♦
Hangzhou Capital Star Hotel

♦
Hangzhou Overseas Chinese Hotel

♦
Hangzhou Tower Hotel

♦
Hangzhou Zhong Shan International Hotel

♦
Qingshuiwan Holiday Hotel Hangzhou

♦
Shangri-La Hotel, Hangzhou

♦
Zhejiang Narada Grand Hotel, Hangzhou

♦
Zhejiang International Hotel, Hangzhou

♦
The new Hotel, Hangzhou

♦
Huachen International Hotel Hangzhou

♦
Jin Hua Yuan Hotel

♦
Communicacion Bussiness Hotel

♦
Hangzhou Zhejiang Hotel

♦
Hangzhou Huayang Hotel

♦
Hangzhou Xiangyuan Hotel

Hangzhou E M Grand hotel is a high star hotel, located in the hi-tech digital fashion centre of Hangzhou, 5 kilometers away from the train station and 30 kilometers from the Xiaoshan international airport. It is known for the excellent location with the flourishing Wulin commercial centre to the east and famous West Lake to the south. Dining facilities include a buffet restaurant on the 2nd floor, serving featured dishes and Western cuisines. Chess/poker rooms, sauna, beauty salons, fitness center and SPA are all places for fun. Opened 2009.
Hotel Facilities:
, 24-hour front desk, Business Center, Tour assistance, Laundry, Sauna, Safe-deposit box–front desk, Room service, Parking, Meeting Rooms, Health Club, Chess Room, Ticket Service, Baggage storage
Room Description:
This hotel has rooms ranging from standard rooms to deluxe ones, equipped with free computer and broadband Internet access. There are also meeting centers for business travelers.
Room Facilities:
, Internet access–high speed, Cable/satellite TV, Private bathroom, Domestic Direct-dial phone, In-room safe, Desk, 24hour hot water, Slippers, Bedside Light, Electric Pot for Hot Water, Central air conditioning