Hangzhou Capital Star Hotel: hotel in Hangzhou China






The hotel is located at the north of the city, close to the Wulin Square. Free use of broadband internet access in all rooms.
Hotel Address:
No. 448 Wenhui Road, Gongye District, Hangzhou, 310005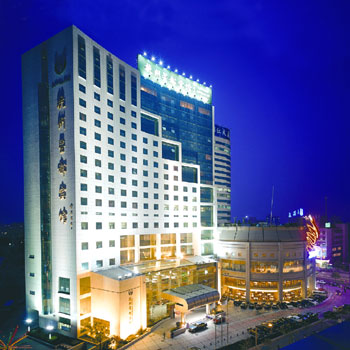 Hotel Room:
273 Rooms
Season:
High Season , Low Season

Hotel Location:


Location in the city map
About 35 km to the Airport. About 7 km to the Railway Station. About 4 km to West Lake. Only 2 km to the city center. only 1.5 km to the port.

See more pictures of Hangzhou Capital Star Hotel
Hotel Video:


Distance from landmarks:
To Yan'an Road Wulin Square about 1.2km,
To The Imperial Grand Canal about 1.52km,
To Zhejiang World Trade Center about 1.88km,
To Hangzhou Peace International Conference & Exhibition Center about 2.43km,
To Hangzhou Huanglong Sports Center about 2.46km,
To Zhejiang Provincial Museum about 3.26km,
To Hangzhou Botanical Garden about 3.78km,
To Su Di Chun Xiao about 4.2km,
To Chengzhan Train Station about 4.64km,
To He Fangjie Wushan Square about 4.8km,
To Eastern Bus Station about 4.86km,
To Si Ji Qing Clothing Market about 5.14km,
To Lei Feng Xi Zhao about 5.31km,
To East Railway Station about 5.72km,
To Southern Bus Station about 5.79km,
To North Bus Station about 5.83km,
To Feilaifeng of Lingyin Temple in Hangzhou about 6.27km,
To Western Bus Station about 6.37km,
To Hu Pao Meng Quan about 8.14km,
To Hangzhou Xixi national wetland park about 9.41km,
To Hangzhou Liu He Pagoda about 9.48km,
To Hangzhou World Leisure Expo Park about 16.04km,
To Zhejiang Sci Tech University about 19.87km,
To Hangzhou Xiaoshan International Airport about 27.63km,

*** Clicking on the underlined words you can find other hotels close to the same landmark
Nearby Hotels (less than 3 km):
♦
Lily Hotel Hangzhou

♦
Hangzhou Zhijiang Hotel

♦
Crown Plaza, Hangzhou

♦
Culture Plaza Hotel, Hangzhou

♦
Dragon Hotel, Hangzhou

♦
Hangzhou Capital Star Hotel

♦
Hangzhou Overseas Chinese Hotel

♦
Hangzhou Tower Hotel

♦
Hangzhou Zhong Shan International Hotel

♦
Zhonghao Hotel, Hangzhou

♦
Holiday Inn, Hangzhou

♦
Zhejiang Howard Johnson Oriental Hotel, Hangzhou

♦
Qingshuiwan Holiday Hotel Hangzhou

♦
Shangri-La Hotel, Hangzhou

♦
Zhejiang Narada Grand Hotel, Hangzhou

♦
Zhejiang International Hotel, Hangzhou

♦
The new Hotel, Hangzhou

♦
Wuyang Hotel,Hangzhou

♦
Hangzhou Wan Hotel

♦
Huachen Kenzo Hotel Hangzhou

The hotel is a comprehensive four star business hotel with guestrooms, restaurants, conference and recreation facilities. The hotel's 273 superior guestrooms and suites with about ten types make you feel at home. The hotel contains an International Conference Hall with facilities for simultaneous interpretation which can accommodate 400 persons, 10 different sizes of meeting rooms. An extensive choice of Hangzhou and other regional cuisine are served here.
Hotel Facilities:
Hotel equips itself with Chenglong Sauna, Foot Massage Center and Raining-Flower Palace Night Club, which is the biggest one compare with the same kinds in Hangzhou. It also offers recreations such as snooker, bowling, ping pong, health fitness, chess and cards play games. Especially the fencing and in-door climbing will bring you surprise.
Room Description:
273 superior guestrooms and suites will make you feel at home, including single room, standard room, suite room, family room, handicapped room on the business floor, as well as no-smoking floor, and penthouse suite, deluxe suite and presidential suite onthe executive floor.
Room Facilities:
Telephone, International Call, Air Conditioning, TV, Room Service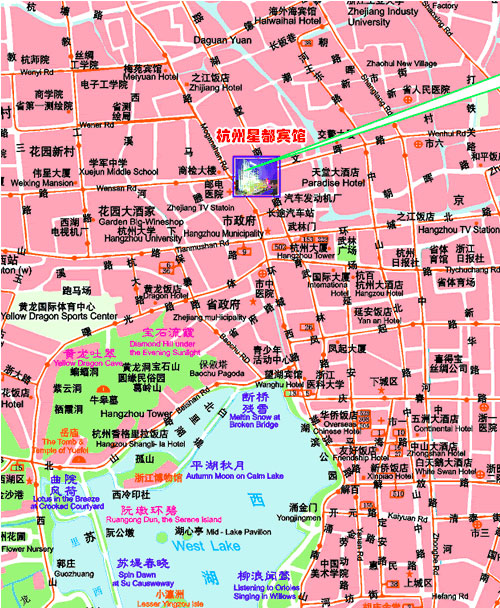 Mr. Graeme***
Date: 2014-04-30
Nation: New Zealand
Type of room: Standard single
Travel for: business
Travel: with friends
Amusements: 9.4
Location: 10
Welcoming & Kindness: 10
Employees qualities: 10
Breakfast: 9.8
Quality/Price Ratio: 9.8
Bathroom Functioning: 10
Bathroom Courtesy items: 9.9
Rooms Cleanliness: 9.8
Quietness: 9.9 Comfort: 9.7
Rooms Spaciousness: 10
Rooms Furnishings: 9.9
Excellent place to stay near the metro, Hotel staff excellent, Room great
Mr. Graeme***
Date: 2012-09-14
Nation: New Zealand
Type of room: Standard double
Travel for: business
Travel: with friends
Amusements: 8.6
Location: 9.6
Welcoming & Kindness: 10
Employees qualities: 10
Breakfast: 10
Quality/Price Ratio: 9.8
Bathroom Functioning: 10
Bathroom Courtesy items: 10
Rooms Cleanliness: 10
Quietness: 9.6 Comfort: 9.9
Rooms Spaciousness: 10
Rooms Furnishings: 9.8
All in all a very nice and pleasent place to stay . Many thanks to all staff
Mr. YUSUF ***
Date: 2011-04-26
Nation: Indonesia
Type of room: Standard single
Travel for: others
Travel: alone
Amusements: 10
Location: 10
Welcoming & Kindness: 10
Employees qualities: 10
Breakfast: 10
Quality/Price Ratio: 10
Bathroom Functioning: 10
Bathroom Courtesy items: 10
Rooms Cleanliness: 10
Quietness: 10 Comfort: 10
Rooms Spaciousness: 10
Rooms Furnishings: 10
satisfied stay at this hotel... they can keep my book until i come even I'm so late... thank you so much