The Hangzhou Tower is located at Wulin Square, the bustling commercial and culture area of the city.
Hotel Address:
No.1 Wulin Square, Hangzhou, China 310006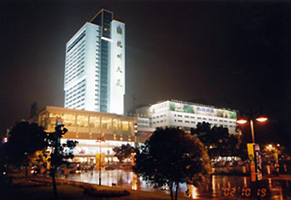 Hotel Room:
582 Rooms
Season:
High Season , Low Season

Hotel Location:


Location in the city map
Conveniently located in the heart of Hangzhou's Wulin Square and financial district, 5kms from the railway station and 12kms from the airport.

See more pictures of Hangzhou Tower Hotel
Distance from landmarks:
To Yan'an Road Wulin Square about 0.3km,
To The Imperial Grand Canal about 2.05km,
To Zhejiang World Trade Center about 2.11km,
To Hangzhou Peace International Conference & Exhibition Center about 2.35km,
To Hangzhou Huanglong Sports Center about 2.8km,
To Zhejiang Provincial Museum about 3.01km,
To Chengzhan Train Station about 3.76km,
To Hangzhou Botanical Garden about 3.89km,
To Su Di Chun Xiao about 3.98km,
To He Fangjie Wushan Square about 3.99km,
To Eastern Bus Station about 4.2km,
To Si Ji Qing Clothing Market about 4.24km,
To Lei Feng Xi Zhao about 4.86km,
To Southern Bus Station about 4.92km,
To East Railway Station about 5.25km,
To Feilaifeng of Lingyin Temple in Hangzhou about 6.42km,
To North Bus Station about 6.73km,
To Western Bus Station about 6.88km,
To Hu Pao Meng Quan about 7.79km,
To Hangzhou Liu He Pagoda about 9.07km,
To Hangzhou Xixi national wetland park about 9.91km,
To Hangzhou World Leisure Expo Park about 15.17km,
To Zhejiang Sci Tech University about 19.35km,
To Hangzhou Xiaoshan International Airport about 26.87km,

*** Clicking on the underlined words you can find other hotels close to the same landmark
Nearby Hotels (less than 3 km):
♦
Lily Hotel Hangzhou

♦
Hangzhou Zhijiang Hotel

♦
Xinqiao Hotel

♦
Crown Plaza, Hangzhou

♦
Culture Plaza Hotel, Hangzhou

♦
Dragon Hotel, Hangzhou

♦
Hangzhou Capital Star Hotel

♦
Hangzhou Overseas Chinese Hotel

♦
Hangzhou Tower Hotel

♦
Hangzhou Zhong Shan International Hotel

♦
Zhonghao Hotel, Hangzhou

♦
Holiday Inn, Hangzhou

♦
Zhejiang Howard Johnson Oriental Hotel, Hangzhou

♦
Qingshuiwan Holiday Hotel Hangzhou

♦
Shangri-La Hotel, Hangzhou

♦
Zhejiang Narada Grand Hotel, Hangzhou

♦
Zhejiang International Hotel, Hangzhou

♦
The new Hotel, Hangzhou

♦
Wuyang Hotel,Hangzhou

♦
Hangzhou Wan Hotel

The hotel is connected with a shopping mall which is the Top Ten Shopping mall in China. It is recommended for both leisure and business individual travellers.FZ 12/03 Exterior: This is a modern style building in creamy color with a small entrance from the Wulin Square. Lobby: The lobby is on the fifth floor and just refurbished in recent years with pleasant deoration. For recreation, there is a sauna center, gymnasium, karaoke, bar and beauty salon. Other facilities including business center, various size meeting rooms, ticket reservation office and clinic. Hangzhou Tower has five distinctive dining halls. The tea served here in the morning and at night has a variety of choices. For dinner, the chefs will serve you with cuisine from Canton, Sichuan, Yangzhou, Hangzhou, Chaozhou and other distinctive delicacies as well.
Hotel Facilities:
Air Conditioning, Billiard, Beauty Salon, Car Rental, Facilities for Disabled, Health Club, Money Exchange, 110 Voltage Plug, Tea/Coffee Boiling Pot, Shopping Arcade, Lounge, Airline Desk, Business Center, Clinic, Conference Facilities, IDD, DDD, In-roomSafe, Laundry Service, Night Club, Room Service, Sauna
Room Description:
The Hangzhou Tower has 582 rooms and suites, including office rooms, commercial rooms, economic suites and deluxe suites, which are all equipped with hot and cold water bathrooms and central air-conditioning. Rooms vary but large on average. All rooms are just refurbished in recent years and are pleasantly decorated.
Room Facilities:
satellite TV programs, telex, fax, and domestic and international telephone service.