The Hotel is located in the north sideline of Xizihu, educational zones and high-tech development zones in Hangzhou, Wulinmen adjacent municipal buildings and commercial centres, only 20 minutes away from the train station, traffic is very convenient.
Hotel Address:
No. 38 Wen Er Road, Hangzhou, 310012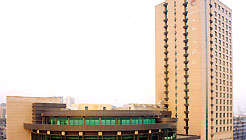 Hotel Room:
174 Rooms
Season:
High Season , Low Season

Hotel Location:


Location in the city map
It is about 3kms to the Wulin Square and downtown. About 5kms to the West Lake. About 9kms to the Railway Station. About 30km to the Airport.

See more pictures of Culture Plaza Hotel, Hangzhou
Hotel Video:

Distance from landmarks:
To The Imperial Grand Canal about 1.58km,
To Zhejiang World Trade Center about 1.98km,
To Yan'an Road Wulin Square about 2.2km,
To Hangzhou Huanglong Sports Center about 2.32km,
To Hangzhou Peace International Conference & Exhibition Center about 2.99km,
To Zhejiang Provincial Museum about 3.67km,
To Hangzhou Botanical Garden about 3.78km,
To Su Di Chun Xiao about 4.53km,
To North Bus Station about 4.85km,
To Chengzhan Train Station about 5.6km,
To He Fangjie Wushan Square about 5.7km,
To Eastern Bus Station about 5.74km,
To Western Bus Station about 5.8km,
To Lei Feng Xi Zhao about 5.83km,
To Feilaifeng of Lingyin Temple in Hangzhou about 6.13km,
To Si Ji Qing Clothing Market about 6.15km,
To East Railway Station about 6.45km,
To Southern Bus Station about 6.74km,
To Hu Pao Meng Quan about 8.5km,
To Hangzhou Xixi national wetland park about 8.81km,
To Hangzhou Liu He Pagoda about 9.89km,
To Hangzhou World Leisure Expo Park about 16.98km,
To Zhejiang Sci Tech University about 20.59km,
To Hangzhou Xiaoshan International Airport about 28.55km,

*** Clicking on the underlined words you can find other hotels close to the same landmark
Nearby Hotels (less than 3 km):
♦
Lily Hotel Hangzhou

♦
Hangzhou Zhijiang Hotel

♦
Crown Plaza, Hangzhou

♦
Culture Plaza Hotel, Hangzhou

♦
Dragon Hotel, Hangzhou

♦
Hangzhou Capital Star Hotel

♦
Hangzhou Tower Hotel

♦
Holiday Inn, Hangzhou

♦
Zhejiang Howard Johnson Oriental Hotel, Hangzhou

♦
Qingshuiwan Holiday Hotel Hangzhou

♦
Zhejiang Narada Grand Hotel, Hangzhou

♦
Zhejiang International Hotel, Hangzhou

♦
Wuyang Hotel,Hangzhou

♦
Hangzhou Wan Hotel

♦
Jin Hua Yuan Hotel

♦
Communicacion Bussiness Hotel

♦
Hangzhou Zhejiang Hotel

♦
Hangzhou Huayang Hotel

♦
Enjoyor Hotel, Hangzhou

♦
Days Hotel Hangzhou

The Hotel is located north of the West Lake, adjacent to the culture and education area and the high technology development area. This is only befitting for an ancient city that Marco Polo once called "Paradise on Earth".It offers diners two fine restaurants and a range of cuisine designed to appeal to all tastes.The conference room is one of the largest in the city. With a capacity of 1200 square meters, it can accommodate 1000 guests.In addition, we offer you a choice of 8 other conference rooms with sizes ranging from 32 to 100 square meters. All of which are backed up by a full range of audio/visual equipment, and supervised by a team of professional meeting service experts Gift shop located on the 2 nd floor of Culture Plaza Hotel, is major deal in imported food, craftworks and Hangzhou specialty silk clothes and etc.
Hotel Facilities:
Air Conditioning, IDD, DDD, Baby-sitting, Billiard, Beauty Salon, Car Rental, Complimentary Daily Newspaper, Health Club, Internet Service, Money Exchange, Airline Desk, Business Center, Clinic, Conference Facilities, Laundry Service, Lounge, Night Club, Room Service, Sauna, Tea/Coffee Boiling Pot, Shopping Arcade
Room Description:
Designed and furnished with all the features of a modern home, each of the 174 rooms and suites provides guests with IDD phone, internet access, colour TV, personal safe, refrigerator, mini-bar and mini-book-rack
Room Facilities:
Telephone, International Call, Air Conditioning, TV, Room Service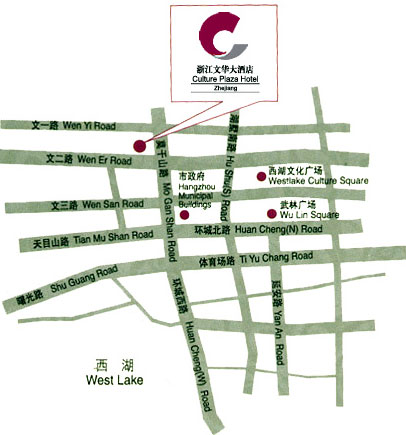 Mr. Dragan***
Date: 2008-11-19
Nation: Yugoslavia
Type of room: Standard double
Travel for: business
Travel: with partner
Amusements: 10
Location: 9
Welcoming & Kindness: 10
Employees qualities: 9.5
Breakfast: 9
Quality/Price Ratio: 9.9
Bathroom Functioning: 9.8
Bathroom Courtesy items: 9.9
Rooms Cleanliness: 10
Quietness: 8.9 Comfort: 10
Rooms Spaciousness: 10
Rooms Furnishings: 7.9
Nice hotel, employees are not quite good in english, rooms furniture are sort of '80s style. Everithyng else is OK.