It is only 3 kilometers from the Wulin Business District, 30 minutes by car from the Xiaoshan International Airport, and 5 minutes from the Hanghzou Train Station.It has a view of beautiful West Lake.To West Lake scenic area only three minutes, the shopping center adjacent to Hangzhou Building, Yintai Department Stores.
Hotel Address:
48 QIngChun road Hangzhou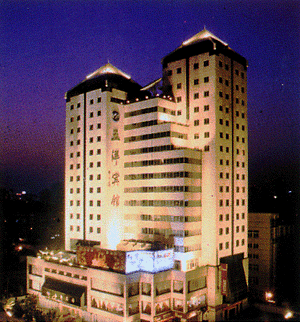 Hotel Room:
221 rooms
Season:
High Season , Low Season

Hotel Location:


Location in the city map
From the airport 30 km -away from the railway station 1 km -2 km from the city center

See more pictures of Wuyang Hotel,Hangzhou
Distance from landmarks:
To Chengzhan Train Station about 1.52km,
To Si Ji Qing Clothing Market about 1.77km,
To He Fangjie Wushan Square about 2.13km,
To Yan'an Road Wulin Square about 2.18km,
To Southern Bus Station about 2.64km,
To Eastern Bus Station about 3.13km,
To Hangzhou Peace International Conference & Exhibition Center about 3.59km,
To Zhejiang Provincial Museum about 3.6km,
To Zhejiang World Trade Center about 3.91km,
To The Imperial Grand Canal about 4.23km,
To Su Di Chun Xiao about 4.35km,
To Lei Feng Xi Zhao about 4.4km,
To Hangzhou Huanglong Sports Center about 4.57km,
To East Railway Station about 4.72km,
To Hangzhou Botanical Garden about 5.05km,
To Hu Pao Meng Quan about 7.32km,
To Feilaifeng of Lingyin Temple in Hangzhou about 7.37km,
To Hangzhou Liu He Pagoda about 8.35km,
To Western Bus Station about 8.58km,
To North Bus Station about 9.21km,
To Hangzhou Xixi national wetland park about 11.52km,
To Hangzhou World Leisure Expo Park about 12.79km,
To Zhejiang Sci Tech University about 18.1km,
To Hangzhou Xiaoshan International Airport about 24.85km,

*** Clicking on the underlined words you can find other hotels close to the same landmark
Nearby Hotels (less than 3 km):
♦
Lily Hotel Hangzhou

♦
Hangzhou European-style Holiday Hotel

♦
Hangzhou Zhijiang Hotel

♦
Xinqiao Hotel

♦
Culture Plaza Hotel, Hangzhou

♦
Dragon Hotel, Hangzhou

♦
Hangzhou Capital Star Hotel

♦
Hangzhou Overseas Chinese Hotel

♦
Hangzhou Tower Hotel

♦
Hangzhou Zhong Shan International Hotel

♦
Zhonghao Hotel, Hangzhou

♦
Holiday Inn, Hangzhou

♦
Zhejiang Howard Johnson Oriental Hotel, Hangzhou

♦
Redstar Culture Hotel Hangzhou

♦
Shangri-La Hotel, Hangzhou

♦
Sofitel Hangzhou Westlake

♦
Zhejiang Narada Grand Hotel, Hangzhou

♦
Zhejiang International Hotel, Hangzhou

♦
Zhejiang Xizi Hotel Hangzhou

♦
The new Hotel, Hangzhou

The Holiday Wuyang Hotel is solely owned by the Wuyang Construction Group. It is a four star foreign tourist and business hotel, near famous scenic spots such as liulangwenyin and leifenxizhao. The hotel has 4 meeting rooms suitable for large or small meetings, as well as a multi function hall that can accommodate over 100 people, and comprehensive meeting facilities and equipment. The hotel facilities and services, including conference coordination and reception, are second to none, and are guaranteed to meet all your needs. The Holiday Wuyang Hotel is truly the ideal place to hold meetings. The convenient location and elegant surroundings help to make this the best possible place for business, leisure and holiday travel. We look forward to your visit and to your suggestions.
Hotel Facilities:
Chinese Restaurant, Conference Room, Business Centre, Coffee Shop, Bar, Change, Credit Card, Ticket Agency, Car Park, Laundry, Baby Sitter, Swimming Pool, Gimnasium, Sauna, Beauty, Massage, Handdicapped Facilities, Shopping Arcade, Karaoke, KTV Room
Room Description:
There are 107 luxury standard rooms and suites, each equipped with direct-dial international telephones, broadband internet access, color televisions, personal safes and mini bars, as well as a view of beautiful West Lake.
Room Facilities:
Air Conditioning, Room Service, direct-dial international telephones, broadband internet access, color televisions, personal safes and mini bars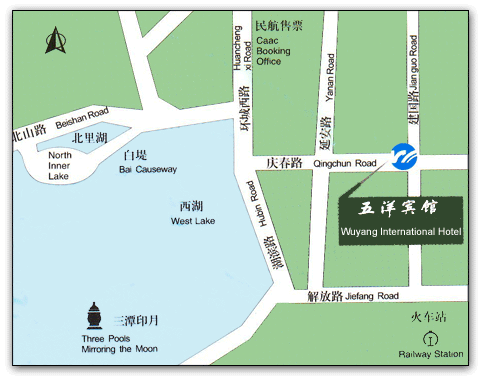 Mr. Chun-C***
Date: 2010-09-29
Nation: United States
Type of room: Standard double
Travel for: tourism
Travel: alone
Amusements: 10
Location: 10
Welcoming & Kindness: 10
Employees qualities: 10
Breakfast: 8.8
Quality/Price Ratio: 8.6
Bathroom Functioning: 10
Bathroom Courtesy items: 10
Rooms Cleanliness: 8
Quietness: 10 Comfort: 10
Rooms Spaciousness: 10
Rooms Furnishings: 10