Enjoyor Hotel, Hangzhou: hotel in Hangzhou China





Enjoyor Hotel, set up as a four star hotel which offer service of food and board, entertainment, business affairs and conference, is located in the busy Qing Chun Street of Hang Zhou City.
Hotel Address:
65 Qingchun Road, Hangzhou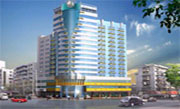 Hotel Room:
170 Rooms
Season:
High Season , Low Season

Hotel Location:


Location in the city map
It is located on one of the most thriving streets in Hangzhou - Qingchun Road. This hotel is only five minutes drive from the railway station, fifteen minutes from the airport, and the beautiful West Lake is only a stones throw away. Distance from the airport ( Km ): 30 Distance from the railway station ( Km ): 1.5

See more pictures of Enjoyor Hotel, Hangzhou

Distance from landmarks:
To Chengzhan Train Station about 1.46km,
To Si Ji Qing Clothing Market about 1.68km,
To He Fangjie Wushan Square about 2.09km,
To Yan'an Road Wulin Square about 2.27km,
To Southern Bus Station about 2.57km,
To Eastern Bus Station about 3.11km,
To Hangzhou Peace International Conference & Exhibition Center about 3.65km,
To Zhejiang Provincial Museum about 3.66km,
To Zhejiang World Trade Center about 4km,
To The Imperial Grand Canal about 4.31km,
To Su Di Chun Xiao about 4.4km,
To Lei Feng Xi Zhao about 4.41km,
To Hangzhou Huanglong Sports Center about 4.66km,
To East Railway Station about 4.71km,
To Hangzhou Botanical Garden about 5.12km,
To Hu Pao Meng Quan about 7.33km,
To Feilaifeng of Lingyin Temple in Hangzhou about 7.43km,
To Hangzhou Liu He Pagoda about 8.34km,
To Western Bus Station about 8.66km,
To North Bus Station about 9.3km,
To Hangzhou Xixi national wetland park about 11.59km,
To Hangzhou World Leisure Expo Park about 12.71km,
To Zhejiang Sci Tech University about 18.05km,
To Hangzhou Xiaoshan International Airport about 24.77km,

*** Clicking on the underlined words you can find other hotels close to the same landmark
Nearby Hotels (less than 3 km):
♦
Lily Hotel Hangzhou

♦
Hangzhou European-style Holiday Hotel

♦
Xinqiao Hotel

♦
Culture Plaza Hotel, Hangzhou

♦
Dragon Hotel, Hangzhou

♦
Hangzhou Capital Star Hotel

♦
Hangzhou Overseas Chinese Hotel

♦
Hangzhou Tower Hotel

♦
Hangzhou Zhong Shan International Hotel

♦
Zhonghao Hotel, Hangzhou

♦
Holiday Inn, Hangzhou

♦
Zhejiang Howard Johnson Oriental Hotel, Hangzhou

♦
Redstar Culture Hotel Hangzhou

♦
Shangri-La Hotel, Hangzhou

♦
Sofitel Hangzhou Westlake

♦
Zhejiang Narada Grand Hotel, Hangzhou

♦
Zhejiang International Hotel, Hangzhou

♦
Zhejiang Xizi Hotel Hangzhou

♦
The new Hotel, Hangzhou

♦
Wuyang Hotel,Hangzhou

The holistic architecture style and service idea of our hotel well embody the feature of ecological entertainment protection and the virtue of serving on the basis of human bing. The hall has a reasonable layout and an elegant design.The Blue Pearl Chinese Restaurant, located on the 3rd floor and decorated luxuriously, can accomodate over 200 people to repast at one time. You will be delighted with the large-size ecological float grass wall which enable you to feel as if being placed in the sea-world and make you reluctant to leave. The modern conference center, located on the 17th floor, provides you with modernized conference service.<br/><br/>Our hotel adopts the international advanced hotel management pattern and takes the high quality service standard as our guide line. .Our management idea, which pay more attention to the environmental protection and being closer to the nature, produce a comfortable and favourable living surrounding for our guests. Mealwhile, we offer privilege measures to guests of different regions, such as guests in Shanghai, Wenzhou, Taizhou, Yiwu, ect and supply protocol privilege measures to the guests with business affairs. In addtion, private golden card and VIP card will be custon-made for the old guests. Hence every guest coming into Enjoyor Hotel will receive the considerate concern from us. Our tenet is: Deal sincerely with guests and serve perfectly. " Dense affection from Enjoyor Hotel will accompany your trip here. " Enjoyor Hotel await respectively guests home and abroad at any time
Hotel Facilities:
If you prefer to dine in the hotel, six restaurants offer Chinese and western food. The hotel also has a conference hall, bowling alley, sauna, karaoke, games room and beauty salon. If the hustle and bustle on the streets outside doesn't bother you and you would like to experience the charming street life of Hangzhou, then the Enjoyer Hotel is the hotel for you. Meeting Facilities Business Center Currency Exchange Ticketing Office Domestic Long-distance Access International Long-distance Access Laundry Service Gift Shop First Aid Beauty Salon Broadband Access in some room
Room Description:
170 guest rooms, provided with perfect equipment and decorated comfortably, have different styles respectively. The green plants and ornamental tropic fishes emplaced in the guest rooms supply an amiable feeling as if going back into the nature.
Room Facilities:
air-conditioning Satellite TV (HBO, the channel V, TVB8, Phoenix Chinese) VOD demand electronic safes ADSL high-speed broadband Internet domestic and international direct dial telephone electronic magnetic locks mini bar room service Laundry Shoe Shine Newspapers Message