Crown Plaza, Hangzhou: hotel in Hangzhou China






Crown Plaza Hangzhou (Hangzhou Huangguan Dajiudian) is located in the center of Hangzhou, at the intersection of Tiancheng Road and Qiutao Road. Located in downtown Hangzhou, the Crown Plaza Hangzhou is a four-star hotel about 35 kilometers from the airport and 5 kilometers from the railway station.
Hotel Address:
No. 88 tiancheng Road, Hangzhou, China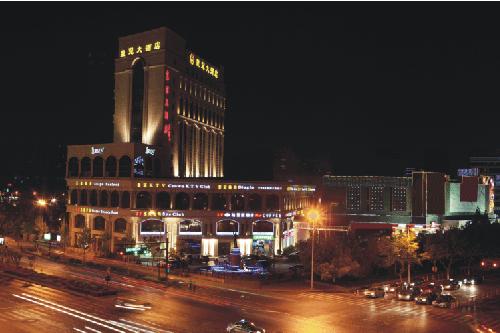 Hotel Room:
228 Rooms
Season:
High Season , Low Season

Hotel Location:


Location in the city map
- 8 km to West Lake; - 4.5 km to Wulinmen; - 1 km to East Railway Station; - 5 km to Railway Station; - 35 km to Xiaoshan Airport. surrounding: canal park

See more pictures of Crown Plaza, Hangzhou

Distance from landmarks:
To Eastern Bus Station about 1.29km,
To East Railway Station about 1.35km,
To Hangzhou Peace International Conference & Exhibition Center about 2.23km,
To The Imperial Grand Canal about 3.82km,
To Yan'an Road Wulin Square about 3.86km,
To Si Ji Qing Clothing Market about 4.52km,
To Chengzhan Train Station about 4.98km,
To He Fangjie Wushan Square about 5.74km,
To Southern Bus Station about 5.85km,
To Zhejiang World Trade Center about 6.02km,
To Zhejiang Provincial Museum about 6.64km,
To Hangzhou Huanglong Sports Center about 6.7km,
To Su Di Chun Xiao about 7.56km,
To Hangzhou Botanical Garden about 7.76km,
To Lei Feng Xi Zhao about 7.96km,
To North Bus Station about 8.94km,
To Feilaifeng of Lingyin Temple in Hangzhou about 10.28km,
To Western Bus Station about 10.73km,
To Hu Pao Meng Quan about 10.93km,
To Hangzhou Liu He Pagoda about 12.01km,
To Hangzhou Xixi national wetland park about 13.77km,
To Hangzhou World Leisure Expo Park about 15.05km,
To Zhejiang Sci Tech University about 15.5km,
To Hangzhou Xiaoshan International Airport about 23.64km,

*** Clicking on the underlined words you can find other hotels close to the same landmark
Nearby Hotels (less than 3 km):
♦
Hangzhou Zhijiang Hotel

♦
Crown Plaza, Hangzhou

♦
Culture Plaza Hotel, Hangzhou

♦
Hangzhou Capital Star Hotel

♦
Hangzhou Tower Hotel

♦
Zhonghao Hotel, Hangzhou

♦
Holiday Inn, Hangzhou

♦
Zhejiang Howard Johnson Oriental Hotel, Hangzhou

♦
Qingshuiwan Holiday Hotel Hangzhou

♦
Zhejiang International Hotel, Hangzhou

♦
Hangzhou Wan Hotel

♦
Huachen Kenzo Hotel Hangzhou

♦
Communicacion Bussiness Hotel

♦
Hangzhou Zhejiang Hotel

♦
Days Hotel Hangzhou

♦
Hangzhou Xiangyuan Hotel

♦
Hangzhou Radow Jiali Hotel

♦
Hangzhou Hongdu Hotel

♦
Greentree Inn--West Genshan Road Branch, Hangzhou

♦
Hangzhou Oukai Hotel

The four-star Crown Plaza Hangzhou is located in the eastern section of Hangzhou, 35 km from the international airport, 5 km from the railway station and 8 km from West Lake. Crown Plaza Hangzhou provides 154 well-appointed guest rooms, including a Presidential Suite, deluxe suites, deluxe rooms and standard rooms, as well as complete dining, shopping, business, entertainment and fitness facilities.
Hotel Facilities:
Meeting Rooms, Business Center, Currency Exchange Service, Laundry Service, Room Service, Postal Service, Bellboy, Luggage Storage, Morning Call Service
Room Description:
Guestrooms in this Hangzhou hotel range from standard rooms to presidential suites. On the executive floor, guests can enjoy free drinks in the refrigerator.
Room Facilities:
Domestic Direct-dial, International Direct-dial, Slippers, Desk, Bathroom, Magnifying Make-up Mirrior, Hot Water (24hrs), Electric Kettle, Coffee/Tea Pot, Free Toiletries (over 6)110V Socket, Bathtub, Hairdryer, In-Room Safety, Central Air Conditioning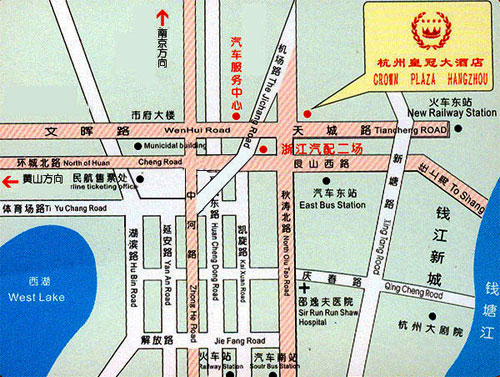 Mr. Pien D***
Date: 2008-11-03
Nation: Thailand
Type of room: Standard single
Travel for: business
Travel: with partner
Amusements: 10
Location: 9.5
Welcoming & Kindness: 8
Employees qualities: 8
Breakfast: 10
Quality/Price Ratio: 10
Bathroom Functioning: 8
Bathroom Courtesy items: 8
Rooms Cleanliness: 9
Quietness: 9 Comfort: 8
Rooms Spaciousness: 7
Rooms Furnishings: 8
didn't go to take sevice of amusment and breakfast
Mr. Romeu ***
Date: 2007-10-01
Nation: Brazil
Type of room: Standard single
Travel for: others
Travel: alone
Amusements: 8
Location: 8
Welcoming & Kindness: 8.5
Employees qualities: 8.5
Breakfast: 6
Quality/Price Ratio: 8.5
Bathroom Functioning: 10
Bathroom Courtesy items: 10
Rooms Cleanliness: 9.5
Quietness: 9.5 Comfort: 9
Rooms Spaciousness: 8
Rooms Furnishings: 9
Mr. ***
Date: 2007-04-13
Nation:
Type of room:
Travel for: others
Travel:
Amusements: 0
Location: 0
Welcoming & Kindness: 0
Employees qualities: 0
Breakfast: 0
Quality/Price Ratio: 0
Bathroom Functioning: 0
Bathroom Courtesy items: 0
Rooms Cleanliness: 0
Quietness: 0 Comfort: 0
Rooms Spaciousness: 0
Rooms Furnishings: 0
Nice hotel, nice people, nice weather, can't be any better! It was a fabulous trip in China. Personally recommend this hotel.