Huachen·Kenzo Hotel Hangzhou, standing at No.344, Xintang Road, is established by Hangzhou Huachen Tourism Group Co., Ltd. It is a 3-star foreign hotel engaged in accommodation, restaurant, entertainment, conference, travel and shopping, etc
Hotel Address:
No.342 xintang road, hangzhou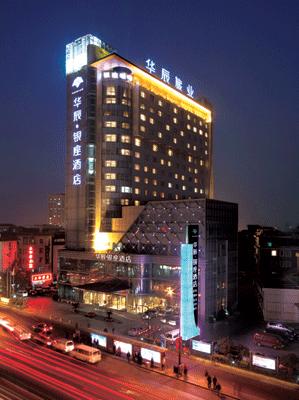 Hotel Room:
185 rooms
Season:
High Season , Low Season

Hotel Location:


Location in the city map
Distance from the airport ( Km ): 6 Distance from the railway station ( Km ): 5, distance from the airport:25, to east railway station:1km

See more pictures of Huachen Kenzo Hotel Hangzhou
Huachen·Kenzo Hotel Hangzhou, standing at No.344, Xintang Road, is established by Hangzhou Huachen Tourism Group Co., Ltd. It is a 3-star foreign hotel engaged in accommodation, restaurant, entertainment, conference, travel and shopping, etc. There are various types of banquet hall, balcony, lover corridor and western restaurant, which can offer 500 people dinning at one time. We can provide a lot of delicious food and cate for your need of cocktail parties and banquets. The hotel also owns many conference rooms equipped with computer network and AV facilities, well prepared for various commercial and administrative conferences. In addition, you will enjoy multifarious games and amusements in our entertainment center, such as bathing, massage, body-building, pork, chess and KTV, etc.
Hotel Facilities:
Dining room, bar.2 Small assembly hall, center assembly hall, big assembly hall.The chess sign, KTV, the pediluwium, the cosmetology style hair, The business center, ticket clerk serves, rents a car, washes clothes'place, market, parking lot.
Room Description:
The hotel is in possession of 185 rooms (suites) including luxurious suite, standard suite, business room and standard room. These rooms are equipped with modern facilities in the hotel such as IC clocks, direct-dial telephones, central air-conditioner, cable/satellite TV, VOD, mini bar, and safe, etc.
Room Facilities:
with the IC card door lock, the direct-dial telephone, central air conditioning, wired (satellite) television, VOD, prestige bar, modernized commerce facility and so on safe cabinet. The hotel has 168 nicely decorated guestrooms. Each room is equipped with satellite TV, IDD, mini bar, etc.